About Yuval Ron
Guitarist Yuval Ron performs original tunes which transcend the boundaries of any specific musical genre. Inspired by a crossover of modern Jazz-Rock icons and a host of many other contemporary artists from the Progressive Rock, Fusion, Metal and modern music genres, it is all well blended into an own fresh and distinct musical direction.
The music features virtuosic performances of various compelling and colorful compositions, produced on top of a cinematic, orchestral, some say Sci-Fi film-like backgrounds, atmospheric soundscapes and various implanted sound effects drawing the listener into a total, electrifying experience.
The players place a constant emphasis on harmonic richness, rhythmical sophistication and an extensive use of synthesizers, laptops and other electronic instruments. The band brings together a few internationally rising talents of electric Jazz and progressive music.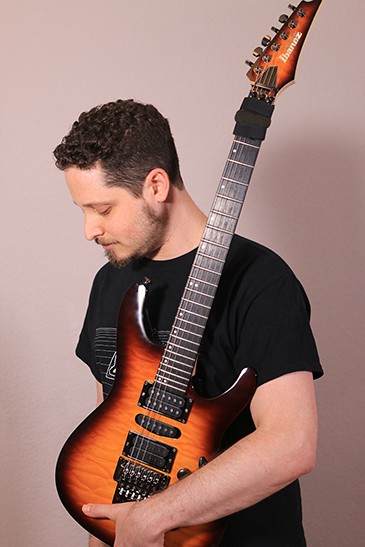 Musical and personal bio…
Yuval started to play the guitar at age 11. It wasn't long before he became active as a player, songwriter, leader and sideman in local bands which played a variety of styles. 
After being exposed to a myriad of artists from the contemporary jazz, progressive rock and metal genres, he decided to take on the route of jazz improvisation and has since gained some unique approaches to jazz and guitar performance. Yet for most Yuval is a self-taught musician, exploring the endless boundaries of his instrument and music as a whole. Later on, he kept expressing much of his musical vision through his band Yuval Ron & Residents Of The Future, while working on other collaborations and solo projects.
Touring worldwide, Yuval has performed in some of the major Jazz and music festivals and has recorded several albums and live videos with his band.
Alongside, he is a music instructor, professional composer, arranger, music producer and a software engineer.
Yuval is also vegan and an animal liberation activist. 
"Yuval Ron's talent on guitar is both jaw-dropping, and refreshing at the same time. You can't help but have respect not only for his abilities, but his willingness, as the named frontman of his band, to allow his bandmates to have moments to shine during this performance. And shine, they do."