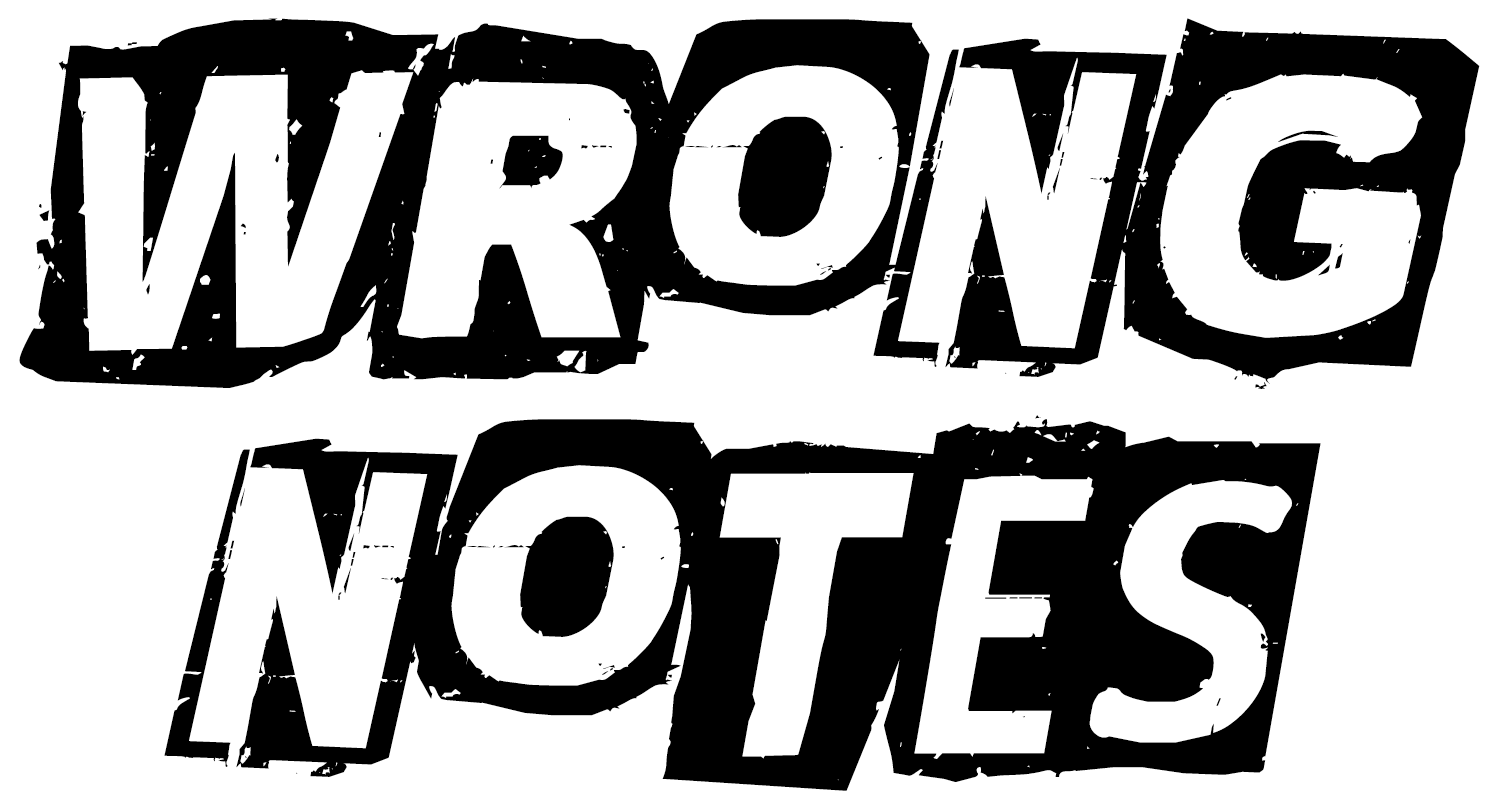 Hello fellow musicians! If you're here then it's most likely because you're a great musician and that you'd be interested to join Wrong Notes, a new music promotion service for social media dedicated to progressive music of sorts – be it Prog Rock / Metal, Jazz, Fusion, Contemporary, Avant… anything goes as long as it's performed well, recorded well and has a lot of "wrong notes".
Please watch this short introduction video and read the FAQ. If your music fits the bill – progressive, performed and recorded in high quality, having good videos – then submit it via the application form below.
In a Nutshell
Wrong Notes is a promotional collaboration of musicians and bands making quality progressive music in various styles. It presents our music videos regularly on social media via our Facebook and Instagram pages. With each artist's monthly payment relevant followers (prog/jazz etc. fans) are acquired legitimately using Facebook Ads. Your videos will appear on the WN pages on a monthly basis to a large and growing number of followers. Together we create a very powerful music promotion platform which features our music to a wider and wider audience.
Frequently Asked Questions:
How does it work?
The idea is quite simple. Wrong Notes is building a prog music community on social media by acquiring relevant followers, i.e fans who are into prog rock, progressive metal, fusion, jazz and similar and engaging them with your music videos, which will be featured to them on an ongoing basis. A growing number of followers will get to know you and your music and hopefully love what you do. 
You'll provide Wrong Notes with your music videos for crossposting from your page to ours, a short version for crossposting to our Instagram, a thumbnail and a short, engaging text about it. Once a month your chosen video will be scheduled by the WN system and we'll let you know its appearance date and time.
With your monthly payment to Wrong Notes, we are able to acquire an estimated number of between 80-120 followers per artist – real and genuine fans of progressive music.
Wrong Notes is here to serve its artists – your page will be tagged with every video of yours so that fans will be able to follow you directly too.
You will also have an "Analyst" role on the Wrong Notes page, which means you can always see how your videos are doing and how is the page performing overall. It's part of our clear transparency policy.
The more artists taking part, the faster Wrong Notes grows and reaches more people. For example with 50 artists in the pool, we are estimated to grow by at least 4,000-5,000 followers per month. It's the power of the community!
Who qualifies become a WN member?
An artist who is:
Making genuine, creative and high quality progressive music (with a lot of "wrong notes").

Releasing engaging music videos.

Serious about promoting themselves or their band's musical career.

Genre is not as important though – whether it's prog rock, progressive metal, fusion, jazz, modern contemporary or rubber ducky avantgarde – as long as the music is adhering to the progressive spirit and is performed and recorded at a professional level.
However, it should be clarified that acceptance to the program and authorization of eligible contents (musical, visual or otherwise) is always at the sole discretion of Wrong Notes Music.
Who are you? What are your social media qualifications?
Thanks for asking 🙂 I'm Yuval Ron, the founder and CEO of Wrong Notes. Apart from being a musician much like yourself, I've been doing some social media work for various pages including my own for quite a few years now. I've been running real-world successful campaigns in various subjects, focusing on music (for instance crowdfunding my own album in the now-deceased PledgeMusic) but also some animal liberation such as Shut Down Mazor Farm, which ended up with the saving of over 2000 Macaque monkeys from cruel experiments and giving them a chance for a new life with the Monkey Rescue organization (Hebrew). 
I am also a graduate of the Social Media on Steroids course by Dan Shinder, the founder and director of Drum Talk TV (the largest online drum magazine, with over 1 million followers), who is one of the biggest experts I know for social media. Dan also serves as a consultant for Wrong Notes.
To summarize, other than being a prog musician and well versed in the specific niche of progressive music, I also know what it takes to run a successful page, how to attract and engage followers and how to convert their engagement into real-world results.
What's in it for me?
Wrong Notes is committing to provide its members with:
Promotion: Your videos will be eligible to regularly appear on the WN social media pages.

Followers base: We build the community with your share of the money. While it's hard to say exactly how many followers can we get for it, it's safe to assume that your monthly payment will grow the community by at least 80-90 genuine followers, and likely even more. 

Transparency (1): You will have full Analyst-role access to the insights of the page and the posts, so you can always see for yourself how well the page and your videos are doing.

Transparency (2): Once a month WN will issue a report which includes how we did in the past month, especially in terms of new followers, page reach, video views and overall engagement.

Support: We are always happy to provide some guidance about social media and content engagement.

Most importantly, you finally have a system working for you: Presenting you regularly of course, but also constantly working at bringing more artists in, which is in everyone's interest – the more we are, the faster we grow.
However, your expectations should match reality. Nobody becomes famous overnight without a significant amount of money invested and Wrong Notes isn't here to change the laws of economy. Your videos won't be watched by millions and you won't see your followers surge all of a sudden. Read on…
What results should I expect?
Let's calibrate the expectations for a moment.
Wrong Notes is NOT a get-rich-quick scheme, neither overnight famous, neither does it do any magic. If you're looking for a place to put a little bit of money on one end and get your videos to hundreds of thousands of people on the other – you're not just in the wrong place, you're in the wrong industry. It simply doesn't work that way.
Just for putting things in the right place: a GOOD post on a Facebook page reaches usually about 0.5-1.5% of its followers pool. This means you got to have literally hundreds of thousands of followers just to reach a decent amount of a few thousands of people in a given post. It's definitely far from ideal, but that's our reality – if there was a better alternative we would've already been there long time ago.
What you can expect in the short term is quite modest reach – a few hundreds of views on each video, a couple of dozens of reactions, maybe a comment, a share or a new fan here and there. This is not because of Wrong Notes, it's just the way social media, and the publication world as a whole, works. In fact, compared to other pages of a similar size, our reach so far works incredibly well thanks to the quality we provide and the careful targeting of our audience. Still, the absolute numbers may not dazzle one at first if coming with unrealistic expectations – so this is by all means a long run, just like any artist's career nowadays. Add to it the fact that people need to see you literally dozens of times before they even remember who you are and hopefully love what you do, i.e convert from Likes to Fans, and this is where we're at.
In the longer term,  the more we grow, the more reach we have, and likely a few years from now, we'll have a major channel with a strong following – this is when we'll see our investment returning big time.
It's a long, steady process and anyone who joins Wrong Notes has to know that from the beginning.
How much will it cost?
You'll find the current pricing for new members here.
Once you join this monthly amount will remain fixed. However monthly price for later joiners will be raised the more followers we acquire, to keep it fair for the artists who joined before. In other words, the sooner you join the better.
So you buy likes?
Yes, but keep in mind that acquiring followers (i.e "buying likes") is in itself nothing to fear of. In fact, with the reduced organic reach in Facebook in the last few years it's pretty much the only way to make significant growth.
We do not buy fake likes. The only way we acquire followers is via Facebook Ads. While it's true that there are fake like farms on Facebook abusing the system, this was heavily reduced by Facebook in recent years and we have specific ways to make sure with 99% certainty that the followers are genuine and relevant audience.
How often will my music videos appear?
As long as you are a paying member, they will appear at a frequency of once a month. In the ramp-up period (meaning the period when we are still a small group of artists) it's likely to be even more frequent, about once a week or two. 
Where are the Wrong Notes pages?
Which artists are already taking part?
Find all current member artists here.
What is the end goal?
We aim to have an artists group of about 250-300 members. While it's hard to say right now how many people we can really reach in the end, striving for 1 million followers within 5-6 years seems attainable if the page functions well and the audience reaction is good. But even a few hundreds of thousands of active, genuine fans is really not that bad! 
Other than that, once reaching a significant number of followers, the sky is the limit for selling music, merch, tickets, workshops – anything's possible. One thing is for certain: our music careers will take a boost which no other service except for (maybe) major labels can provide!
Why should I spend money on music promotion?
Because the real world, whether we like it or not, is controlled by paid media. "Word of mouth" is very cool and underground, but will only get your career so far. That's the truth.
Musicians spend thousands of bucks on gear, studio time, touring and whatnot, often without thinking twice. They also spend years and years on studying music, practicing their instrument and honing their craft. Promotion, even though it comes last, should be done just the same way.
I'm working now on a new release. Should I wait until it's ready?
In our opinion, no. If you already have a back catalog of videos you should already join. The reason is that Wrong Notes is not a traditional media tool, where campaigns are short-termed and "release age" matters. In fact on the contrary, we are based on a model that presents your music regularly and on a timely basis. Chances are that most followers of the page still don't know your older stuff (and they don't really care about when it was released either). So we definitely encourage the reuse of older materials, as long as they comply with our content criteria. Join now, present what you've already got and once your new release is ready, it will much more likely fall on ready ears who know you and love what you're doing!
Also please keep in mind that the monthly price for new joiners increases the more followers Wrong Notes has.
I already have a label / promotion service
Wrong Notes does not replace any of the traditional work a record label or a promotion service will do for you. We are not releasing albums, selling CDs, getting you reviews, radio plays or anything like that. We make sure that YOU (through your music videos) will stay present on the most important venue we have today, social media, and get your music monthly to a growing audience of prog fans, whether or not you have a new release or a tour coming.
Will I need to actively promote the Wrong Notes page or do any more work?
No. Promoting the page and acquiring audience will be done on Wrong Notes's part. All you'll have to do is to commit to WN's monthly membership payment (see below) and of course, provide us with your music videos. 
That said, it would be much appreciated if you invite your fans to follow the page and share its contents from time to time. Also if you know other artists with the same "musical mindset" that are serious about their promotion, please connect them to us. We all benefit from each other's involvement.
What happens if I stop my payments?
If you stop your payments, you'll still be member, however:
Your videos won't be eligible to be featured until you renew the payments.

If after 3 months you won't return to payment status, your membership will be terminated.
Keep in mind that monthly fees for new artists are increasing with the number of followers, so starting a new membership will not be with the old fee rates.
Is there an official agreement?
Yes. Once you sign-up, you will need to agree to the Wrong Notes terms of service.
I have some more questions...
Join the Wrong Notes artists!
We are growing in numbers every day… 
Yuval Ron · Jay Matharu · Bob Lazar Story · Mark Barron · The Mercury Tree · Gidi Derzy · Obsidian Tide · Mental Fracture · Tillian · Muffled · Asymmetric Universe · Stratospheerius · ZEH · Sons of Ra · DoZ  · Selah Collective…
How much will it cost?
Current membership price is €25 / month
(Roughly $28 USD)
+ Your music will be eligible to appear monthly on the WN social media pages.
+ We build a strong followers community together with your share of the money.
+ You will have full Analyst-role access to the insights of the page and the posts
+ Get a monthly report with members summary, total contributions, page and posts performance.
+ Support: We are always happy to provide some guidance about social media and content engagement.
Please note that membership price for FUTURE member artists will be raised the more followers we have – so the earlier you join, the better.
Please read before applying…
Wrong Notes is not for everyone.
We are not seeking to compromise quality for quantity.
We are looking for musicians and bands who are:
Creating original, high quality, progressive music with a lot of "wrong notes".

Genre doesn't really matter – Can be prog rock / metal, Jazz, Fusion, contemporary, free or rubber ducky avantgarde…
The music must be professionally performed and recorded. No half-baked stuff!
Must have good music videos (studio or live are also fine) that can be presented to a wide audience.
Serious about their own promotion.
Ready to invest a reasonable monthly amount in it.
Apply to become a Wrong Notes member artist